Vincent's have been supplying customers with Appledore traditional FREE RANGE BRONZE TURKEYS for over 20 years. The turkeys are reared on the Wreathall family farm in Appledore, Kent and the family are dedicated to rearing the most succulent, flavoursome and traditional Christmas farm fresh turkeys.
To avoid disappointment and to guarantee the size of turkey you require place your orders in advance.  Download the Xmas Order Form 2023 pdf, telephone 01483 773415 or pop into the shop.
Established in 1985, Vincents Butchers is an independent quality butchers, serving customers in and around Surrey and Internationally. Selecting only the very best meat from small family run farms across the British Isles. Sourcing our produce locally because we believe whole heartedly in free range and GM free diets.
We are committed to serving our customers the freshest, tastiest and best quality meat. Listening to our customers to give them what they require, and the way they like it with a first class service at all times.  Using our experience, skill and knowledge to select the finest meats, from naturally reared animals. Ensuring all our beef and lamb is fully matured, and our master butchers produce cuts of the highest quality.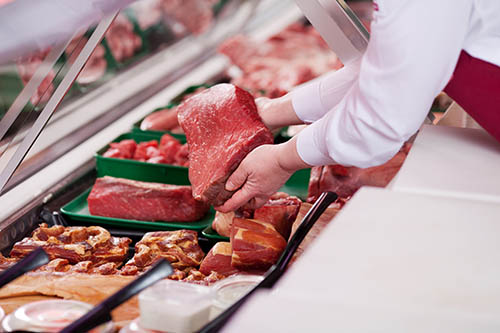 SUPPORT YOUR LOCAL BUSINESS
Vincent, the owner of the shop is here everyday and still has the same passion that he had when he started.  We are not a chain or a franchise, so all of our passion and energy is focussed on one place. If you love what we do, we appreciate the feedback. If ever you feel like there is something we could do better, please tell us - we want to know.
WE STOCK ONLY THE FINEST QUALITY, LOCAL PRODUCE
Sourcing a variety and the best products takes time.  We feel we have found the best suppliers possible for VINCENTS - all free range. Beef and Lamb all grassed fed and all our meat has 100% traceability.
HERE TO SERVE YOU
Appreciating your business and support is high on our agenda, because everything we do is to meet all your needs and expectations.  We will do it with style,  and more importantly,  with respect for the animals.